Over the next 4 weeks we will be sharing a sneak peak into the types of delicious and gut-happy recipes that you will enjoy on the Epic Gut Cleanse starting October 10th!
The Epic Gut Cleanse is a 21-day kickstart to gut health that is led by EpicLuv Founder, Melissa Blynn, and EpicLuv's Registered Nurse, Sara Ferreri. It is filled with resources, weekly live support groups, and delicious recipes that will help you:
Remove major toxins
Build a healthy eating base
Gain more energy
Jump start a balanced body!
Enjoy today's recipe:
Salmon Sushi Cauliflower Rice Bowl
Ingredients
4 cups Cauliflower Rice
3 tbsps Avocado Oil (divided)
1/4 cup Coconut Aminos
1 Garlic (clove, minced)
1/2 tsp Ginger (minced)
1 Cucumber (medium, julienned)
4 Carrot (small, julienned)
1 Avocado (small, sliced)
10 ozs Canned Wild Salmon (drained)
4 Nori Sheets (quartered)
Directions
Sauté the cauliflower rice in a large pan with 1/3 of the oil for seven to 10 minutes. Divide the cauliflower rice between bowls or containers if meal prepping.

In a small bowl, whisk the remaining oil with the coconut aminos, garlic, and ginger to make a dressing.

Divide the remaining ingredients evenly between bowls on top of the cauliflower rice and serve with the dressing. Enjoy!
Notes
Leftovers: Refrigerate in an airtight container for up to two days.
Meal prep: Divide all of the servings between your containers and add the avocado just before serving.
Join the Epic Gut Cleanse!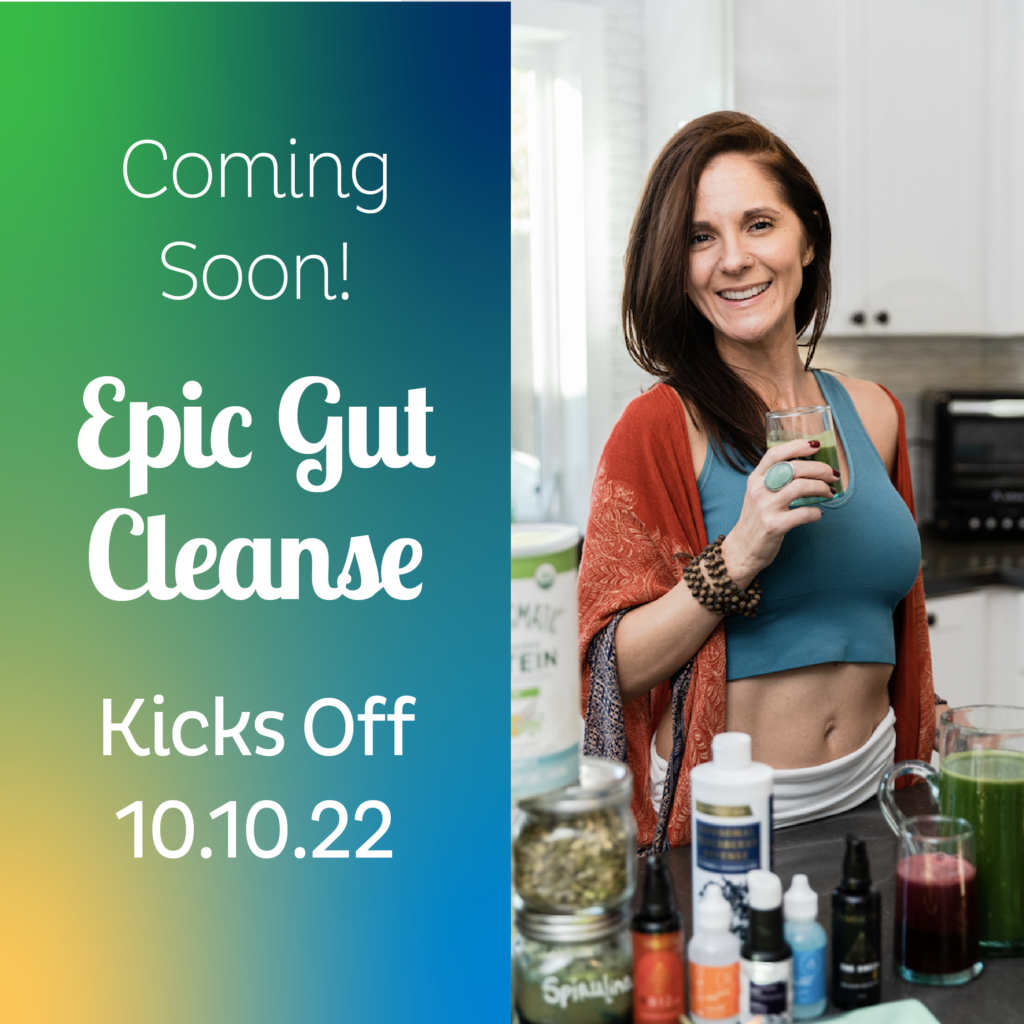 When's the last time you felt great? Like, boundless energy, not-exhausted, gut-happy great.
It's time for a fresh start. Starting October 10th, the Fall 2022 Epic Gut Cleanse begins!
It's time to stop feeling like shit!
It takes 21 days to make or break a habit. During this program you will remove major toxins, add in nutritionally beneficial foods and supplements, and jump start your body back into living in a state of balance.
Join today for access to:
12 NEW Clean Gut Approved Recipes
7 NEW Smoothie Recipes
NEW High Quality Supplements List
Suggested High Quality Food Brands to support the cleanse
Weekly Zoom Calls for Support and Accountability
18 On-Demand Cooking Videos
Food Do's and Don'ts List + Tips
12 Hour Deep Detox & Level Up Worksheets