Issues in the gut have surprising impacts on your mind and whole body; healing the gut can heal symptoms from head to toe.
Do you hear the word cleanse and automatically think of chugging gross juices and detox teas that have you spending most of your time in the bathroom?
I get it. Most "cleanses" you see online are difficult, intimidating, expensive, and ultimately don't deliver on the promise to make you feel better which is hugely frustrating for people seeking healing.
That's exactly why I created the Epic Gut Cleanse — to help people like you heal your gut through real, whole foods, the right supplements, and professional guidance from start to finish.
Backed by extensive functional nutrition education, and by personal experience — I do this gut cleanse bi-annually myself — I can assure you that you won't be starving, and you will be challenged in a manageable way to accommodate your busy life. Most importantly, you won't be alone. You'll spend three weeks in a community with other people like you who want to improve their overall health without the gimmicks. And, you'll be coached along the way by myself and registered nurse Sara Ferreri.
The Epic Gut Cleanse isn't for everyone, and it may not be for you. That's why it's essential to check in with yourself and review the symptoms below to determine if you're a good candidate for this program.
What are the signs of a leaky gut?
The reason why I created the Epic Gut Cleanse in the first place was to heal my own gut. At 32 years old, I was diagnosed by a naturopathic physician with severe adrenal fatigue. On the outside, I looked healthy and was always on the go, completing my master's degree which led me to burnout. But on the inside, I felt like shit. I wasn't prioritizing sleep, so I was constantly exhausted and burned out. My hair was falling out and my nails were brittle. When I did fall asleep, I'd wake up scratching my skin raw.
My poor body was crying out for healing and I didn't slow down enough to know it.
If you are experiencing one or more of these symptoms, you need to heal your gut:
#1 Burnout and consistent exhaustion.
Do you live on caffeine to wake up and stay awake throughout the day? Feeling tired every day, or even most days is not normal. Beyond feeling exhausted, you may have trouble focusing on tasks and making decisions.
#2 Rashes or skin disorders.
If you develop a rash seemingly out of nowhere, it could be a sign of a leaky gut. Also, functional medicine doctors are making more discoveries linking skin disorders such as eczema, rosacea, and psoriasis with inflammation.
#3 Stiffness or pain in joints.
Leaky gut triggers inflammation throughout the body when the gut lining is permeated by toxins and bacteria.
#4 Digestive disorders.
You all know I love to talk about shit! In all seriousness, our poops tell us vital information about our gut health. Bloating, gas, abdominal pain, constipation, and IBS are not normal and may be a sign of a leaky gut.
#5 Extreme emotional disorders.
If you have chronic anxiety or depression, or if you have trouble regulating your emotions (you feel like you're either extremely happy or extremely upset, angry, or depressed), it might be time for a cleanse. Studies have proven the inextricable connection between the gut and the mind.
What can I expect from the Epic Gut Cleanse?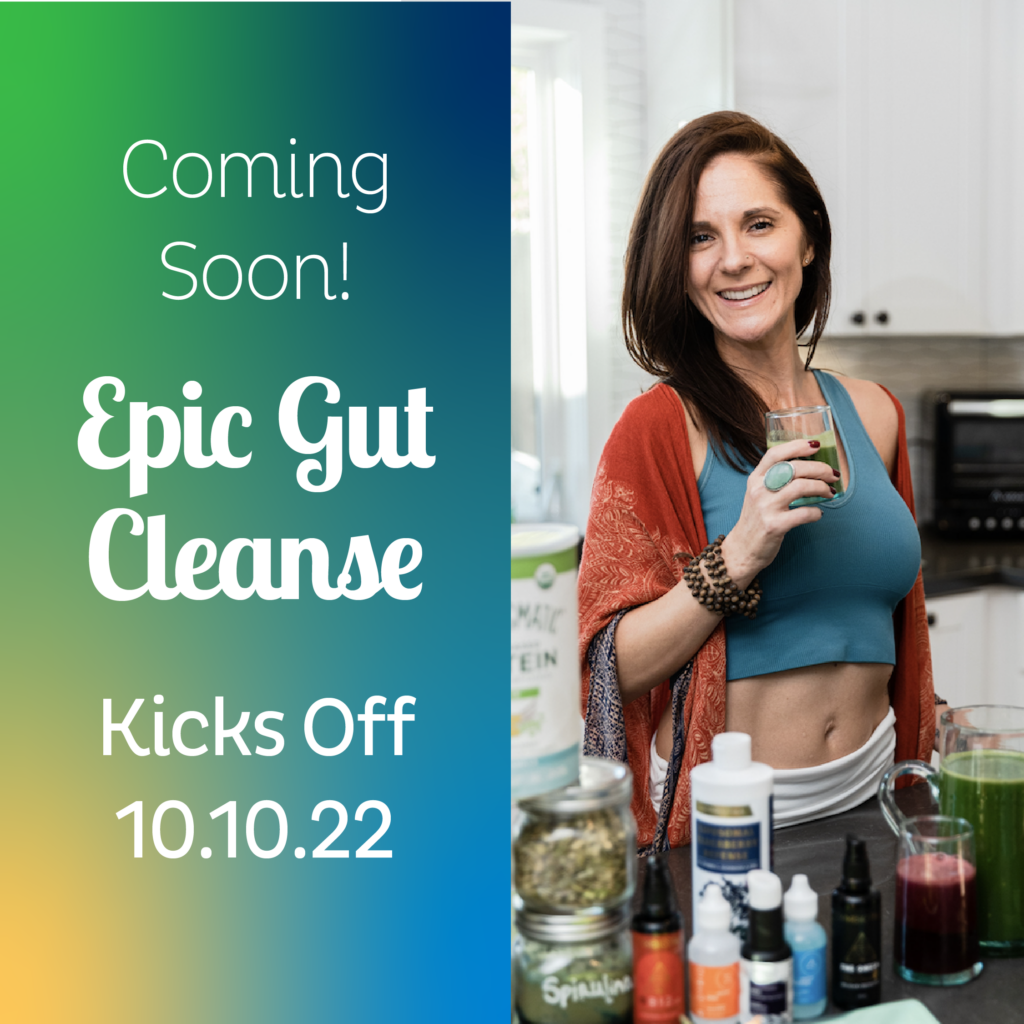 Real talk — it's going to take 21 days to stop feeling like shit.
It takes 21 days to make or break a habit. During this program, you will remove major toxins, add in nutritionally beneficial foods and supplements, and jump-start your body back into living in a state of balance.
You'll be given a food and supplement protocol that is specifically designed to:
Remove built-up toxins, candida, and built-up yeast
Reinocculate the lining of the digestive system
Re-introduce foods slowly, which can help determine food allergies or sensitivities
You'll have exclusive access to:
4 weekly group calls on Zoom
30 recipes and smoothies
18 "how to" cooking videos
8 downloadable resources
A 30-minute, nutrition deep dive call
Key takeaways from the Epic Gut Cleanse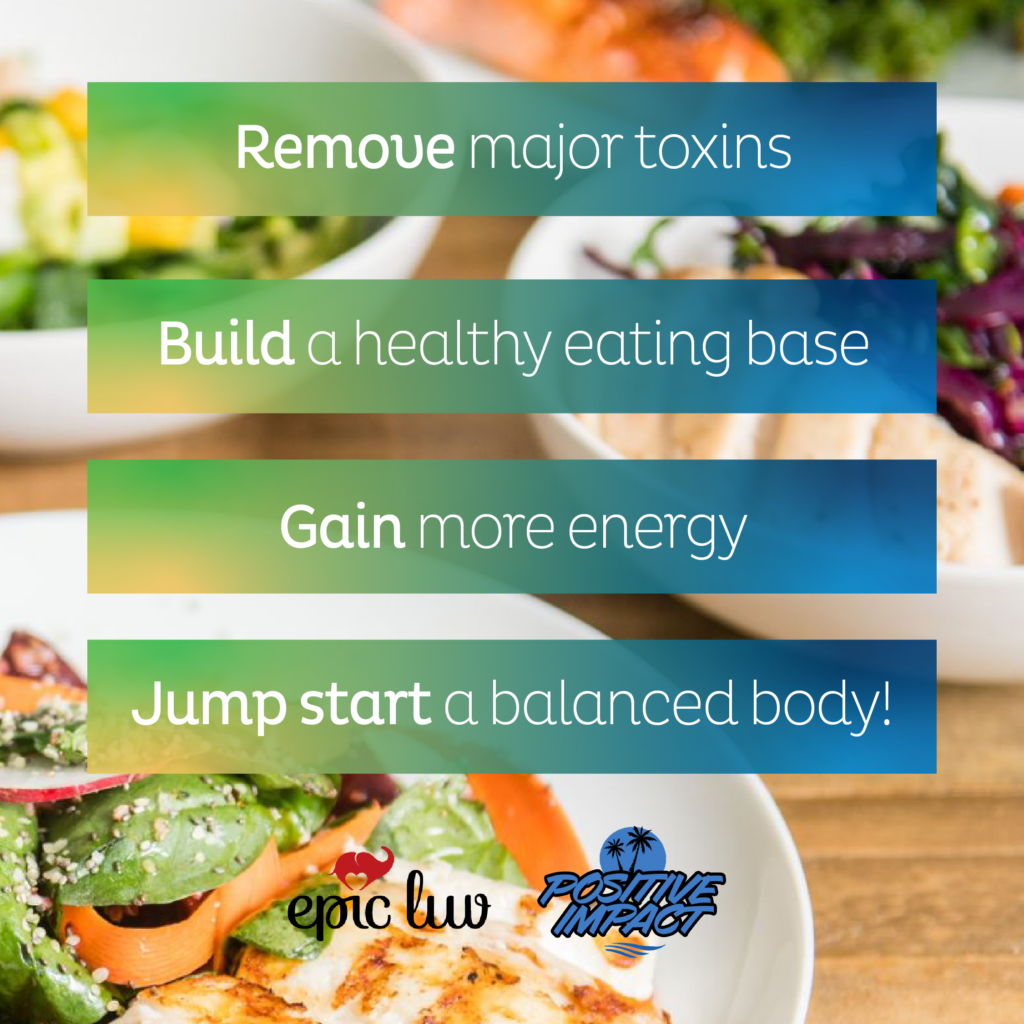 After coaching hundreds of people through the Epic Gut Cleanse, I've heard these common themes in the noticeable improvement in their health: 
The realization that energy and digestion go hand in hand.
The realization of more energy with less consumption; the ability to refrain from overeating.
Improved quality of sleep and feeling more rested.
Better emotional regulation, and fewer mood swings.
The ability to create healthier coping mechanisms instead of turning to food, caffeine, or alcohol; better stress management.
Are you ready to stop feeling like shit?
Woah. That's aggressive, right?
But seriously, when was the last time you felt great? Like, boundless energy, not-exhausted, gut-happy great.
It's time for a fresh start. You deserve a clear, supportive path to a healthier mind and body.