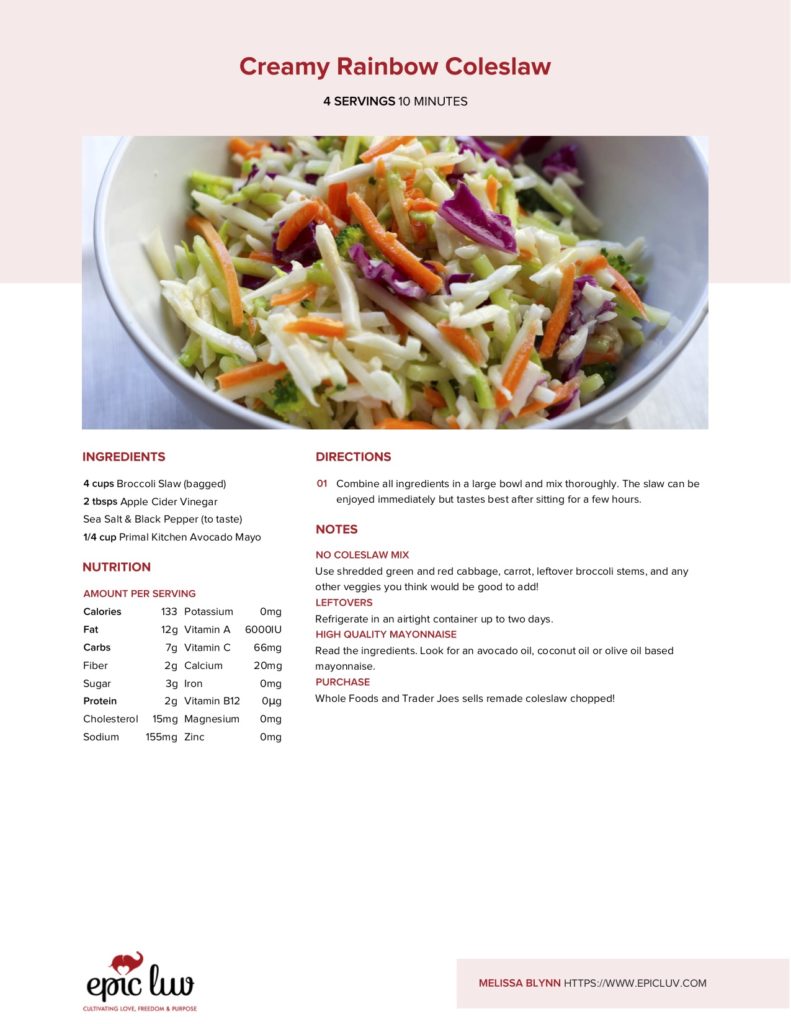 Ingredients
4 Cups of Broccoli Slaw (bagged or chopped on own)
2 Tbsps Apple Cider Vinegar
1/4 Cup Primal Kitchen Avocado Mayo
Sea Salt & Black Pepper (to taste)
Benefits of Coleslaw
Cabbage juice can be a miracle healer for the GI tract. Many studies show that drinking fresh cabbage juice can heal ulcers much faster than conventional treatments.
Cabbage can fight breast cancer. The cabbage is part of the popular cruciferous family of vegetables that contain molecules called isothiocyanates. These molecules are especially known for their anti-cancer properties and have an affinity for fighting leukemia, breast, prostate and lung cancers.
Cabbage is an excellent source of vitamin K.  Our bones depend on vitamin K for strength.  All types of cabbage are an excellent source of this fat soluble vitamin that helps in the mineralization of our bones.
Cabbage contains antioxidants. Cabbage has high levels of polyphenols – a large group of molecules recognized for their antioxidant power.  One of the great things polyphenols does is protect our bodies from oxidative damage, especially our skin. 
 Cabbage contains essential fatty acids. Cabbage has a surprisingly good content of essential fatty acids (EFAs), especially alpha-linolenic acid (a type of Omega 3). 
Nutrient Facts