12 ingredients | 45 minutes | 4 servings
Ingredients
1 Delicata Squash (small)
3 cups Brussels Sprouts (washed and halved)
1 bulb Fennel (coarsley chopped)
1/2 cup Red Onion (coarsley chopped)
1/4 cup Extra Virgin Olive Oil (divided)
1/4 tsp Sea Salt
1/4 tsp Black Pepper
1/4 cup Tahini
1 Garlic (clove)
1/4 cup Water
2 Lemon (small, juiced)
1/4 cup Pumpkin Seeds
Directions
Preheat oven to 375ºF (191ºC). Line two baking sheets with parchment paper.
Slice delicata squash in half lengthwise and scoop out seeds, then slice into half rounds.
Toss the squash, brussels sprouts, fennel and red onion with half of the olive oil, and spread over the baking sheets. Roast vegetables in the oven for 30 minutes, stirring at the halfway point.
Meanwhile, prepare the dressing by combining the remaining olive oil, salt, pepper, tahini, garlic, water and lemon juice in a blender. Blend until smooth, adding more water if necessary for consistency.
Remove vegetables from oven and divide onto plates. Drizzle with tahini sauce and top with pumpkin seeds. Season with more sea salt and black pepper if you wish. Enjoy!
Kick Start the New Year: Epic Body Transformation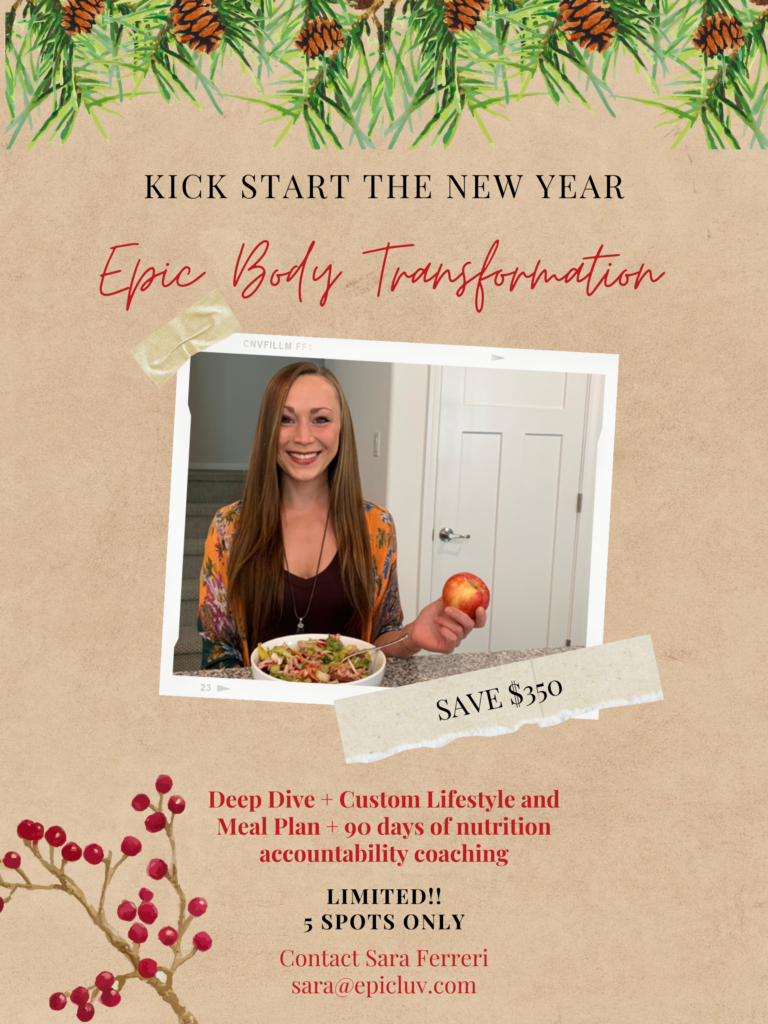 If you're seeking ways to improve and enhance your relationship with food in the New Year, reach out today to EpicLuv's Registered Nurse, Sara Ferreri! Her Epic Body Transformation program is limited to 5 spots. It includes a deep dive into your current relationship with food, the development of a custom lifestyle and meal plan, and 90 days of nutrition accountability coaching!
Join now and save $350!
Book your FREE Discovery Call with Sara to see if Epic Body Transformation is a good fit for you!