How to create a plan for proactive, healthy boundaries over the holiday season.
How do you feel about the approaching holidays? If you're feeling:
anxious about interacting in a dysfunctional family setting
already stressed about the calendar of events and saying yes to everything
worried about overspending on gifts
guilty for imbibing in excess food and drink
… then, first of all, you are not alone. Most people struggle in at least one of these areas leading up to the holidays.
Setting yourself up with a healthy boundary success plan for the holiday season will allow you to create space for memorable experiences.
Here's how you do it!
Tip #1: Prepare and get organized.
Grab your calendar and notepad or notes app and get ready to make some lists.
Make a gift list and budget.
Prioritize the gatherings you want to go to.
If you're stuck, check in with yourself. Does it feel good in your body? Then choose that.
Choose simple and minimal.
See where you can stop over-committing and overgiving.
Join the virtual workshop to build your own plan on October 26th (more details below)!
Tip #2: Go into the season with gratitude.
Practicing gratitude has so many benefits because our perspective influences everything else in our lives. A gratitude practice can help you ground, and become "unfuckwithable" when triggered. Refrain from getting sucked into family dysfunction and drama. Be mindful of what's yours vs. theirs.
Tip #3: Self-regulate.
Make a list of your self-regulating toolbag so that when you need to, you know exactly what to do and where to go to calm your nervous system. Practices such as breathing, walking, and journaling help when you're overwhelmed or need to disconnect from overstimulation.
Tip #4: Keep your side of the street clean.
You can control YOUR response. But you can't control others.
Also, what you say "yes" to, and what you commit to, is your side of the street.
Tip #5: Practice your sacred NO.
Honor your "no" to maintain simplicity and minimalism. You can create boundaries around gift giving, how much you're going to contribute to other parties, what traditions mean the most to you, and what can be let go.
Tip #6: Review this healthy boundary success plan with your partner.
Include your spouse or partner on this list so that you're on the same page about how you're going to participate in the holidays. Doing this will set expectations and prevent unnecessary conflict.
The Hello, Holiday Boundaries Workshop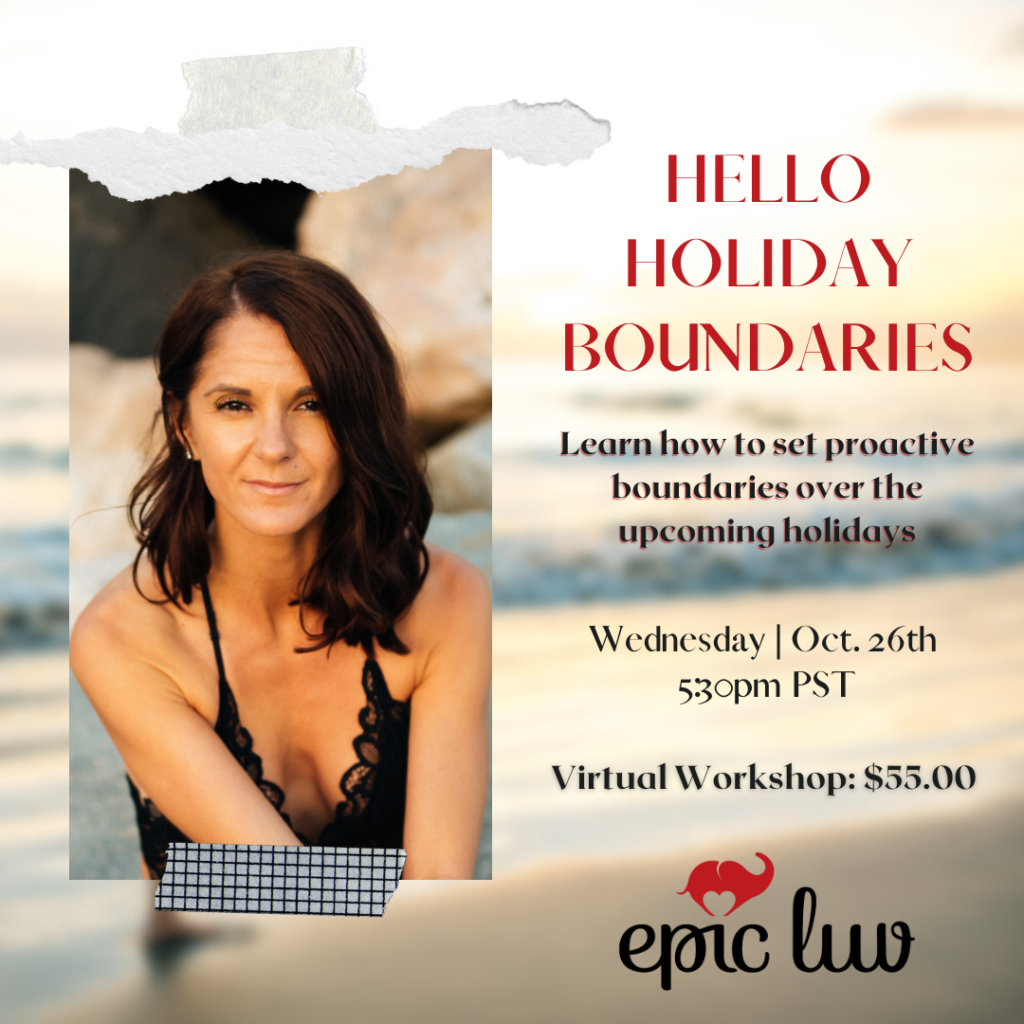 Need more guidance in creating your success plan? Then join our virtual workshop on Wednesday, October 26th, from 5:30-6:30 pm! For only $55, we'll go through each one of these tips in more detail while you create your healthy holiday boundaries success plan. You'll walk away with everything you need to set yourself up for a peaceful and relaxing holiday season.