In today's fast-paced digital age, where we are inundated with information and often disconnected from our roots, there's a growing movement that seeks to reconnect us to our most primal and powerful selves. One such enlightening conversation took place on the "Awakening the Feminine" podcast, hosted by the insightful Melissa Blynn, with a special guest, Hannah, who is no stranger to the art and science of tapping into the feminine divine.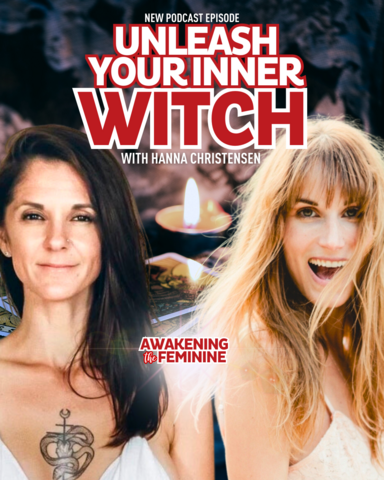 Discovering the Voice of the Feminine
Melissa Blynn, the brains behind this evocative podcast, holds firm beliefs in adopting unconventional, non-traditional, and unfamiliar approaches. Her rapport with Hannah Christensen, the Soul Medicine Woman, certified astrologer, priestess, and hypnosis therapist, is undeniably deep-rooted, tracing back to shared tarot readings and astrological chart interpretations over the past decade.
Hannah's transformative journey through her "dark night of the soul" led her to discover an untapped reservoir of inner wisdom and resilience. Now, residing in Las Vegas with her twin flame, two home-born children, and a mystical cat named Miss Molly, she employs a unique blend of astrology and hypnosis in her practice.
The Essence of the Witch in the Modern World
Contrary to popular stereotypes, being a witch isn't about sporting green skin or donning pointy hats. As Hannah beautifully articulates, it's about forging connections with nature and the cosmos and co-creating reality. More poignantly, the term "witch" often brings to mind those brave souls who faced persecution simply for not conforming to societal norms.
The conversation sheds light on the skewed negative perceptions birthed by societal witch hunts and the profound influence of past life experiences and traumas on one's present life. However, central to this discourse is the significance of awakening and reclaiming the inner witch in contemporary times.
The Intertwined Paths of Death, Awakening, and Magic
Melissa's personal recollection of 2019, post the demise of her roommate Cindy, serves as a testament to the mystical powers that lie just beyond our conscious realm. With Hannah channeling Cindy and drawing eerily symbolic tarot cards, this anecdote underscores the idea that death isn't an end, but rather a beautiful initiation into one's true magical potential. Hannah poignantly states, "The death of a loved one can be such a beautiful initiation into your magic."
Intuition: The Hidden Compass Within Us
Every individual, regardless of their self-perceived logical or scientific nature, possesses intuitive hints. These subtle nudges, often dismissed as mere coincidences, are far from random.
The speaker's heartrending experience, feeling the presence of her grandmother's spirit post her passing, was a significant marker of her spiritual awakening and her burgeoning connection to her inner witch.
Reclaiming the Feminine Power Through History
Historically, our ancestors recognized and revered the innate connection of the feminine to intuition, spirituality, and guidance. The ancient balance saw men as doers while women emerged as the intuitive guides. Sadly, with time and societal shifts, women faced diminishing roles and were pushed to compete in domains that didn't necessarily align with their intuitive strengths or natural cycles.
Today, as we reawaken the feminine, we are urged not to shun these dormant parts but to wholeheartedly embrace and display them. The process requires not only the demolition of long-held beliefs but also the willingness to construct new paradigms that resonate more deeply with our authentic selves.
The Awakening Process: Embrace, Transform, Illuminate
Reclaiming our inherent power involves deeply tuning into our bodies, being in sync with nature's rhythms, and practicing rituals like astrology and astral travel. It's about fostering genuine self-awareness, appreciating life's challenges, and recognizing the unique magic within each one of us.
As Hannah and the speaker passionately convey, everyone's journey to embracing their inner witch is unique. What may work wonders for one might not resonate with another. Yet, the key lies in harnessing our energies, tapping into our intuition, and directing these forces positively to enlighten the world.
---